You may be asking yourself this question after seeing online and commercial advertising. Our objective at Envision Eyecare is to educate our patients on the difference in quality and craftsmanship between our glasses and those purchased online or through a commercial vendor.  It is through education that we can convey why all glasses are not created equal.  The Envision Eyecare team takes a great deal of pride in the services and products we offer as well as the information we provide to our community.  We are unique from other providers, so we hope you find this information helpful as you decide what's important for your best sight and eye health.
First, why wouldn't you purchase your eyewear online or from a commercial, corporate vendor if you could save on cost?  Research shows that over 50% of online eyeglasses are returned to the consumer with incorrect prescriptions and/or materials not delivered as ordered.  Plus important measurements that ensure your best vision are generated haphazardly, which can have detrimental effects on your best vision and comfort.  Most online and commercial vendors promote cheap prices which leads to a diminished sense of sight and performance. While the immediate benefit may be cost saving, you'll often sacrificing your visual clarity, comfort, protection and, most importantly, preservation of your sight. As with other consumer purchases, the adage "you get what you pay for" certainly holds true with eyewear.
Read on to learn how our Optical Experts use their hard-earned skills and knowledge to craft the best eye wear possible for your lifestyle, fashion, fit and protection.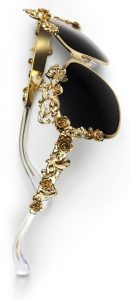 Top 5 things we consider when ordering your great spectacle lenses:
Lens material-

(plastic vs. polycarbonate)-polycarbonate is thinner/lighter and impact resistant for improved comfort, safety and aesthetics

Premium anti-reflective treatments (or AR)-

this treatment reduces glare and reduces fatigue with computer use; cheaper coatings typically peel or chip after a short time.

Lens surfacing (Digital vs traditional)-

digital surfacing enhances visual clarity by reducing peripheral distortion and improving range of vision in progressive lenses

Blue light and Ultraviolet radiation filters-

protect against macular degeneration, the #1 cause of blindness over 55, as well as Cataracts and eyelid skin cancer (which accounts for 8% of all skin cancers.)  Other benefits include improved sleep and reduced eye strain from devices.

No-line bifocals/progressives (premium vs standard)-

premium progressives provide a wider area for reading and intermediate vision with reduced peripheral distortion leading to easier adjustment and everyday use.
Top 3 things we consider when ordering your fabulous new frame:
Your exact spectacle prescription-

matching your Rx to a specific frame is a critical first step in making your glasses accurately.

Frame Material-

hand-selecting frames that are made from quality metals, such as titanium or are hand-made (see

STATE OPTICAL CO.

) make for a more durable frame over time. Cheaper frames are made from poorer quality metals and injection mold plastics which lose their adjustment and break easily.

Comfort and Fit-

Your face and fashion sense means a lot to you! Cheaper frames are heavier, leading to daily discomfort, and can be more difficult to adjust and hold their shape. Our patients feel more confident and attractive, leading to a superior user experience for the life of their eyewear.
We stand behind what our Doctor's prescribe for you and are able to guarantee the quality of your eye wear if they are made in our office. We ensure quality control for all glasses orders, checking that they were made properly and that frame adjustments are accurate for you, making sure you have the best for your eyes.
The list above is a guide to educate you on products that will enhance and protect your vision. We believe your eyes and your vision are worth it and we hope you do too!
Our optical team is committed to excellence and quality.  We are here to partner with you to find best fit eyewear for the demands of your everyday life. We offer a wide range of products for all budgets, plus we want you to SEE and be SEEN wonderfully!
https://www.myenvisioneyecare.com/wp-content/uploads/2017/03/blog-r.3.jpg
430
564
envisioneyecare
https://www.myenvisioneyecare.com/wp-content/uploads/2022/04/envision-eyecare-300x131.png
envisioneyecare
2017-03-17 11:59:39
2017-03-17 11:59:39
"Why are my glasses so expensive?!"