It's that time of the year again: SPRING ALLERGY SEASON!  There's nothing more frustrating and confusing than getting a handle on your allergies. If it's not the itchy eyes, it's the running nose and even red dry eyes. What's an individual to do, right? Introducing your spring survival guide for this season!
Well, stick with us and we'll make certain you'll go places; albeit only those of your choosing with as little pollen as possible. Here are a few tips, tools and information to help you manage this year's allergy season. As we all know, allergy season affects each person differently. What works for some, won't necessarily work for all. So, take what applies or what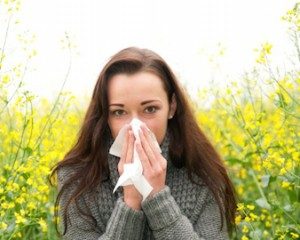 you are comfortable with and leave the rest.
IS IT BEST TO MANAGE MY ALLERGIES WITH OVER THE COUNTER DRUGS OR HOMEOPATHIC?
The truth is you can do either. This is an issue of preference and not just personal preference but body wisdom preference. If something along a homeopathic remedy is much more effective in providing you relief and comfort, then stick with that by all means. However, always make certain you are consulting with your primary healthcare doctor as well as your eye doctor. Certain medications and/or homeopathic remedies do effect your blood pressure as well as your overall body health.  And, as we all know your overall body health affects your vision at times.
ASIDE FROM MEDICATIONS OR HOMEOPATHIC REMEDIES, IS THERE ANYTHING ELSE I CAN DO?
There's always plenty you can do to alleviate allergies during the spring season.  For starters, begin at home where you spend a good portion of your time. Sticking to regular cleaning/dusting, around the house, will help to reduce triggers such as dust build up or even pollen that accumulates over time. Consistency is the name of the game.
Also, daily monitoring of the pollen count is always a good method to follow. There is nothing like driving around town with your eyes streaming water or your noses dripping, while you attempt to make your way to your next meeting, to make this a hard lesson to learn.  Each day is a different day during allergy season, so keep track of pollen counts to keep a firm handle on your allergies. It goes without saying, when the pollen count spikes, it best to stay indoors.
HOW DO I KNOW IF OR WHEN I NEED PRESCRIPTED MEDICATION FOR MY ALLERGIES?
Chance are if you've spent the last few allergy season bending over backwards [sometimes literally], trying every homemade remedy under the sun or you've gone through just about all of the strongest over the counter remedy's from the drugstore, it's time to consult your doctor.
A great place to start is to get an allergy test to know exactly what it is that triggers an allergic response. Once you have taken your test, consult with your physician about what your options are moving forward.  Combined with your personal medical history, it will be much easier for you to design an all around health plan that will enhance your quality of life and allow you to enjoy springtime as much as possible.
Remember, a great health plan for the allergy season will always incorporate a plan for your eye health as well. Given the fact we experience our strongest allergy symptoms in our eyes and nose, be sure not to leave them out of your plan!
https://www.myenvisioneyecare.com/wp-content/uploads/2015/03/spring-allergy-season.jpg
270
338
envisioneyecare
https://www.myenvisioneyecare.com/wp-content/uploads/2015/02/envision_logo.png
envisioneyecare
2015-03-31 21:36:35
2015-03-31 21:36:35
Your SPRING SURVIVAL GUIDE For Allergy Season.