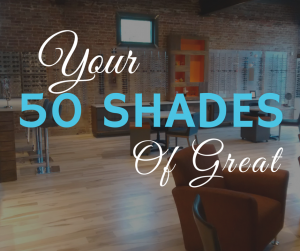 They say the eyes are the windows of the soul and to a large degree [if not completely true depending on your school of thought]; it can said most agree with this point of view. Much truth about our overall health can be detecting with a simple eye exam. From one simple routine check-up, your eye doctor can tell how your blood pressure is doing, your mental health [early detection of brain aneurysm], your risk level for diabetes, whether or not you have a vitamin deficiency, if you have melanoma and the list goes on!
Clearly your relationship with your eye doctor should be one at the top of the list among many. Not to put all the pressure nor responsibility of your health on your eye doctor, we wanted to share with you our '50 Shades Of Great' ideas to help you in your self care for the remainder of the year. Not only are these tips simple, but they'll go a long way in strengthening your precious sense of sight!
So far this is what we've come up with [feel free to add to it]:
Sip some hot tea first thing in the morning.
Implement some form of exercise into your life.
Put more herbal in your meals [as in herbal liquids.]
Before you grab that pain killer, rub your temples first.
Eat more ginger.
Grab a little sniff of rosemary [Yup, you read correct! Sniff away.]
Embrace more bitters, decrease the sugar intake.
Go fish! No, not the game, eat the actual fish.
Pop-A-Pro! — as in a Probiotic. Get more 'good bacteria' into your system.
Give yourself the benefit of Bilberry – a cousin to the blueberry helps with night vision.
Eat more bananas.
Lavish yourself with some lavender! Put it in your bath or your tea.
Put a cap on the joint pain with some capsaicin
Book yourself a massage. Relax. Release. Let Go.
Eat some garlic. Yes, garlic it's an antibacterial agent.
Use tea tree oil for fungus.
Try drinking Tulsi as a tea.
Eat more avocados.
Stock some Echinacea in your cupboard.
Invest in a Neti Teapot [you'll need it to brew your herbal teas.]
Keep things regular with a little Triphala.
Stay open to life. Talk to people.
Spend time/walk your pet; if no pet borrow one.
Grab a little GLA for hair loss [Google it.]
Go natural…avoid products that compromise your health.
Eating more Japanese food. Wasabi and Shitake mushrooms are good for you!
Use a little Black Cohosh for menopause.
Drink lots of water DAILY.
Be mindful of your carb intake.
Try using products that contain Calendula a natural antiseptic.
Keep things hot! Throw a little cayenne pepper into the mix.
Keep things sweet. A little licorice [powder form] goes a long way for canker sores.
Load up on lots of love. Connect with your family and friends often.
Drink more cranberry juice.
Grab a bottle of alcohol and take a swab –under your feet that is! Keep bacteria at bay.
Put a little pep in your step. Drink more peppermint tea.
Increase your daily intake of vitamin D.
Purchase or invest in a tongue scraper. Keeps bacteria from building in the mouth.
Form a friendship with friendly fungi. It helps strengthen your lungs.
Duct tape it! — your warts that is. [Don't ask old family recipe.]
Wash after yourself. Keep hands clean to prevent spread of germs.
Put a little tincture in it. For truly upset stomach issues, this blackberry root will help.
Grab a fistful of fennel and chew it. Yup, and swallow.
Eat more honey.
And, eat more broccoli.
Strengthen those bones with an increase in calcium.
Soothe your sore throat with some slippery elm.
Be sure to laugh a little each day. No scratch that – laugh a lot every day.
Do one thing each week to take you out of your comfort zone; keep things exciting.
Each year check off one thing from your bucket list; keeps things moving.
The End!
Remember, though some of these tips may seem simple they're also a means of empowering your overall quality of life. In the end, you can always wait until your next eye appointment where the eyes will have it and alert your doctor if anything is not as it should be.  Carry on…
https://www.myenvisioneyecare.com/wp-content/uploads/2015/02/Your-1.png
788
940
envisioneyecare
https://www.myenvisioneyecare.com/wp-content/uploads/2022/04/envision-eyecare-300x131.png
envisioneyecare
2015-02-24 01:10:19
2015-03-24 20:42:43
50 Shades Of Great!